Thanks for printing! Don't forget to come back to Zerorez New Mexico for fresh content!

Carpet Cleaning
Albuquerque NM
Zerorez® New Mexico
Zerorez New Mexico takes pride in providing the best carpet cleaning services in the greater Albuquerque metropolitan area. Our services include cleaning carpet, tile & grout cleaning and sealing, area rug cleaning, mattress cleaning, upholstery cleaning, leather furniture clean & condition, granite & stone cleaning and sealing and we also treat pet urine and odors. Our unique cleaning process does not use harsh chemicals or soaps and leaves behind...nothing at all! Zero residue means cleaner longer®!
Living in
Albuquerque, NM
We are new to Albuquerque, New Mexico and thrilled to finally be able to get out and see the amazing culture and beauty of this great City not to mention experiencing the incredible New Mexican cuisine...YUM! Albuquerque is one of the nation's oldest cities founded in 1706. It is a city full of history and culture and absolutely stunning sunrises and sunsets with the brilliant hues of orange, pink, yellow and purple. Perfectly nicknamed
"The Land of Enchantment".
According to FWT Magazine, New Mexico is known as "The Land of Enchantment" because, "You will become enraptured with the culture, agriculture, scenery, and cuisine." And so it is!
Albuquerque International Balloon Fiesta began in 1972 with 13 balloons and has expanded to become the largest hot air balloon festival in the world, where every year over 500 balloons and 750,000 visitors come from all over the world to Albuquerque New Mexico to share in the celebration of the predictable wind patterns that Hot Air Balloon enthusiasts live for.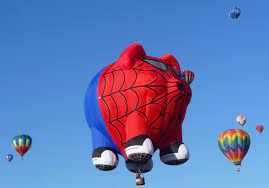 We were so excited to be able to participate in the Albuquerque International Balloon Fiesta last year. It was so much fun and beautiful to go to the balloon park and see the after glow light show with all the unique shaped balloons including my favorite "Spyder Pig". I watched in amazement at how organized and quick the hundreds of HUGE balloons went up and then were taken down, removed so the fireworks show could begin. Absolutely Amazing!

Zerorez® Carpet Cleaning
in Albuquerque New Mexico
Our green carpet cleaning technology is free of harsh soaps and chemicals. Zr Clean™ provides an eco-friendly clean that leaves behind no smell and zero residue®. Residue left behind will attract dirt and increase re-soiling carpet fibers.

If you are looking for the best carpet cleaner in Albuquerque, Call Zerorez New Mexico!
Hours of Service
| Day of Week | Time |
| --- | --- |
| Mon-Fri | 7:30am-5pm |
| Sat | 9:00am-2pm |
| Sun | Closed |