Clutter accumulates with procrastination and soon you may be too overwhelmed to do anything. It is a vicious cycle that many of us are aware of and may create or exacerbate depression. However, it is important to remember that when we walk into a clean, organized home our mood is elevated and stress is greatly reduced.
The following tips may help you get into the motivated mindset of clean, organized and efficient:
1. Set yourself up for success
Begin by having the correct tools necessary for your cleaning project(s) in a tote, in the closet, under the sink, always available and ready to access, including:
Microfiber cloths

better than sponges which can become a breeding ground for germs and bacteria.
better than paper towels because they are easy to clean, dry quickly and can be reused several times saving the environment.

Glass cleaner
Neutral all purpose cleaner
Mild abrasive cleaner for tougher cleaning jobs (ie Baking soda, toilet cleaner, etc.)
Gloves
Brushes
Dusters

etc.
Setting yourself up for cleaning success takes the guesswork out of it.
2. Forget about the finish line
Choose everyday to do the small little cleaning maintenance tasks that will reduce the time needed to complete deep cleaning projects, done weekly or monthly. For example:
Kitchen - quite possibly the most active room in your home. Choose to clean up as you go, while prepping meals, after meals wipe up any spills and load the dishes in the dishwasher. Don't wait to unload the dishwasher until you have a heaping sinkful of dirty dishes, do it as soon as possible. And by the same token, don't wait to take out the trash until it is spilling over and creating an unsightly mess, take it out as soon as it is full.
Bedroom - Make your bed everyday. Takes 5 minutes but sets your day up for success from the beginning. As written by Admiral McRaven:
"If you make your bed every morning, you will have accomplished the first task of the day. It will give you a small sense of pride and it will encourage you to do another task and another and another. By the end of the day, that one task completed will have turned into many tasks completed."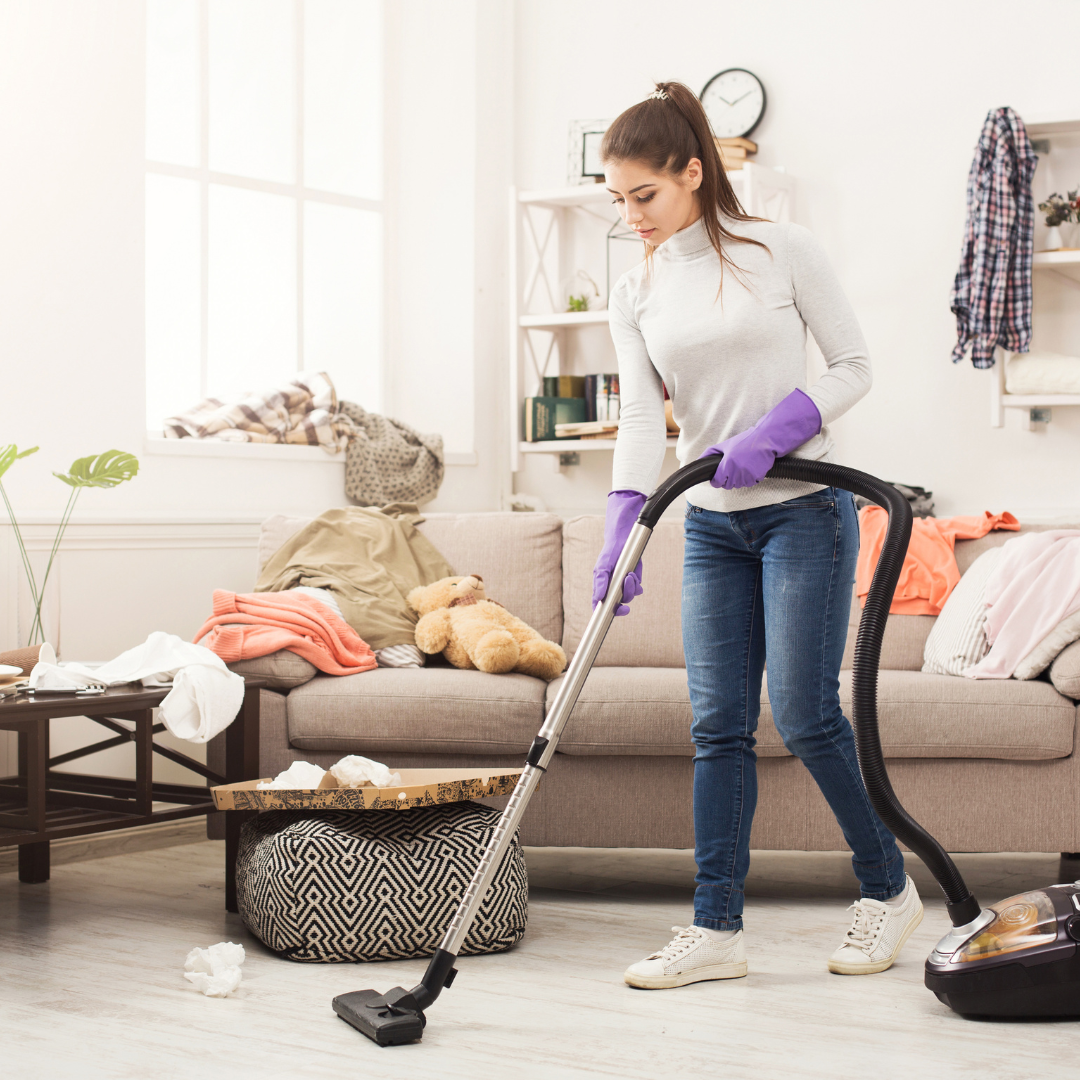 Bathroom - similar to the kitchen, choose to clean as you go. Tackle the cleaning in small chunks before it becomes overwhelming. For example, use a squeegee after every shower. This will reduce unsightly water spots and possible water pooling which can lead to mold. Wipe down sink and toilet area as needed versus waiting for the weekly cleaning. Put dirty clothes in the hamper and hang wet towels to dry.
Living areas (including bedrooms) - dust frequently and remember that dust falls from the highest area downward. Clean and dust from the top down making the last task to vacuum, sweep and/or mop up the dust or dirt that has fallen to the floors. It is better to dust using a microfiber cloth as well because the fibers will remove versus move the dust.
Vacuuming - the most important task to maintain your carpet. It is recommended that you vacuum at least once a week and more frequently if you have pets and/or children.
Remember to tackle the small tasks everyday to maintain motivation for a clean, organized, beautiful home and keeping procrastination at bay. By maintaining a "cleaned up" home you will automatically reduce clutter as well as the unsightly overwhelming cleaning projects which can cause anyone to choose to procrastinate. Tackling small tasks can guide you to big victories over time, and can show you that you are capable of accomplishing what you set out to do.
3. Outsource what you can
Tidying does not have to be only your responsibility. If you are able to call a cleaning service for help, do it! Hiring a professional to help you get a head start tackling the cleaning of your home, car or office has many benefits. A professional cleaner can help you save time and money. Professional cleaners have access to all of the unique appropriate equipment and cleaning products needed to take care of your unique cleaning needs and they are educated in the cleaning requirements for different fabrics and materials. They are trained in removing allergens, dirt and dust creating a healthier environment for you and your family. Also, the time you save can be put toward another goal.
If you skipped spring cleaning this year, call in the experts at Zerorez® New Mexico for deep cleaning services like carpet cleaning, tile and grout cleaning, upholstery cleaning, and more! It is recommended that you have your carpet and upholstery cleaned every six to eighteen months, depending on usage. Zerorez New Mexico cleans without using detergents or harsh chemicals thereby leaving zero residue. Cleaning by Zerorez New Mexico means your carpet, tile and upholstery stay cleaner longer. Call (505) 585-5053 or schedule online today!