Thanks for printing! Don't forget to come back to Zerorez New Mexico for fresh content!
Carpet Cleaning
Experts
Zerorez New Mexico employs an environmentally friendly cleaning process that cleans without the use of harsh chemicals or detergents and leaves behind no smell, no sticky surfaces or crunchy carpets and no lingering soap to attract dirt. Our patented technology cleans with Zr Water™ — it's water that's been electrolyzed to act like soap, but better! Because we didn't use cleaning chemicals to create it, Zr Water cleans without leaving soil-attracting residue. Your carpets won't dry crunchy and will stay cleaner longer!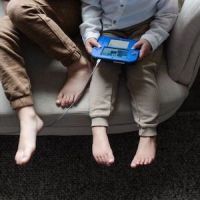 The Zerorez Difference™
Our proprietary cleaning process uses ZrWater® which is water that has been electrolyzed generating a powerful cleaner that breaks down dirt, grease, and odors. Zr Water cleans a lot more than just carpet! It's effective on almost every surface in your home; tile and grout, upholstery, rugs, etc.. and it is safe for your family and pets.
The only choice for a true clean that lasts longer.
Zr Clean™ & Patented Technology
Satisfaction Guaranteed
We want to make sure your experience is as easy as possible. We will clean and test a small area of carpet and if you don't believe how well the process works, then you decide whether to continue with the rest of the service or not. No hassles and no worries.
No Soap Lingering to Attract Dirt.
Zr Clean™ acts like a detergent without the side effects of toxic chemical additives, by breaking down oils and soiling in the carpet fiber. Your carpets are safer because Zr Clean™ does not add toxic chemicals to your carpets.
Your Surfaces Dry Faster with our patent-pending Zerorez® cleaning process.
Our patent-pending Zerorez® cleaning process includes three proprietary components: our Zr Lifter®, our patent pending Zr Clean™ and our patent pending Zr Wand™. Combined, these create a Zero Residue® clean that means,
no crunchy carpet
, no sticky fibers, no harsh detergents or toxic chemicals, no reappearing spots, no residue-laden carpets, eliminated pet odors, safer living space and fast dry times.
Platinum Certified by the Carpet and Rug Institute
With our patented cleaning Zr Process,™ Zerorez® also qualifies for the highest approval rating possible from the Carpet and Rug Institute - a Platinum Rating! With our Zr Lifter®, Zr Clean™ and our innovative patent-pending Zr Wand™ there is virtually nothing left behind!
The Zerorez Difference™ is Our Process, Our People and Our Promise.
We believe that a healthy home starts with clean carpets. Nothing cleans more thoroughly or protects your investment better than our revolutionary patent-pending Zerorez® cleaning process™. It's our process, our people and our promise!


Stay Connected
Stay Connected with us to receive up-to-date information on special offers, promotions and tips to maintain a healthy, happy and clean home!
We respect the privacy of our users. Please review our
privacy policy
Professional Carpet Cleaning Services

The Zerorez® Carpet Cleaning process has been tested by the Carpet and Rug Institute (CRI). Zerorez received a Platinum rating which is the highest rating possible. What does that mean for you? The independent test performed by the CRI ranks carpet cleaners based on the amount of soil removed, resoiling rate and moisture remaining during the water extraction of the cleaning process. Zerorez received the highest rating meaning carpets cleaned using our process are cleaner and dryer than our competition. Learn about CRI's testing and Seal of Approval program.
Zerorez® of New Mexico employs highly trained technicians who are certified in several standards by the IICRC (Institute of Inspection Cleaning and Restoration Certification).
Zerorez New Mexico brings the Best Carpet Cleaning Services to your home or business. Carpet cleaning services include area rug cleaning, upholstery cleaning, tile & grout cleaning, granite & stone cleaning, mattress cleaning, pet & odor treatment and of course, carpet cleaning. For more information regarding our cleaning process and services, call us today at (505) 585-5053.
5055855053
Zerorez New Mexico
10000 Erlitz Drive NW, Albuquerque, Albuquerque, NM 87114
Varied
Sofa Looks New
I am impressed to see the sofa looking as good as new.
~L. Gabaldon
Anonymous
5055855053
Zerorez New Mexico
10000 Erlitz Drive NW, Albuquerque, Albuquerque, NM 87114
Varied
Carpets Look Awesome
My carpets are looking awesome again. Friendly service, had the same tech for both cleaning appointments over a year apart. The tech explained the process and was very thorough, taking care to protect the furniture and the walls in my home.

~ C. Lujan
Anonymous
5055855053
Zerorez New Mexico
10000 Erlitz Drive NW, Albuquerque, Albuquerque, NM 87114
Varied
Carpet Looks New!
Zane was very professional and took care of everything! Carpets look brand new again!
~A. Yohn
Anonymous
Hours of Service
| Day of Week | Time |
| --- | --- |
| Mon-Fri | 7:30am-5pm |
| Sat | 9:00am-2pm |
| Sun | Closed |